As I write this, one of Florida's famous afternoon thunderstorms seems to be rolling in. I say "seems to" because you never know with these things – it may rain cats and dogs, or it may not rain at all. One thing you can bet on – not everyone within a 5 mile radius will get some rain.
Ah, the wonders of summer in Florida!!
Anyway, back to business. As always, I've been busy reading and compiling awesome resources for helping small businesses better understand all the intricate parts of making the web work for them.
I'm proud to report that I completed the Success Secrets of the Online Marketing Superstars book over the weekend and plan to get busy preparing a summary. I'm shooting for mid-July, but you never know what can come up in the meantime!
Without further ado, below are my latest top 5 articles for late June covering an array of topics. This was a tough one because of all the great options, so I may have to eventually expand this into a top 10 list!
#1 – How to Create Conversion-Ready Landing Pages Like a Pro
Many people mistakenly believe a conversion landing page is just the words and call-to-action. However, the elite conversion experts know it goes much deeper to include the page's purpose, intended action, audience and more. Knowing your customer is by far the most important step – understanding this helps you determine not only who the page is for, but who it isn't for, which is equally important. Next, having a solid understanding of the desired action is key – do we want the visitor to purchase a product, or download a free e-book? Other vital steps include creating cognitive flow, eliminating friction and testing. Read more…
#2 – How to Create a Social Media Routine
Being active on social media can be hard, especially if it's not your strong suit to start with. Many feel that creating a routine will make them look inauthentic, while others are simply overwhelmed by all the choices out there. One of the best ways to overcome this is to only focus on 1-3 social media networks explains Point Source Marketing. Having a poor presence is worse than having no presence at all. It's also plain impossible to keep up with all the social networks out there. Read more…
(BONUS: Check out this handy infographic from Click Consult explaining the pros and cons of each of the major social media networks)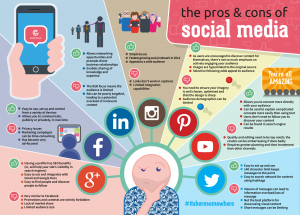 #3 – Are you Speaking English or "Techlish" in your Content Marketing?
If you're anything like me, you get frustrated when an expert in a given subject doesn't use ordinary language to communicate. We've probably all been guilty of it at one time or another, but in your content marketing (…especially for very technical type companies), it can be the real Achilles heal in your effort to build more leads online. This piece from Sprout Content explains "techlish" and steps you can take to ensure your site's copy, visual and audio content isn't speaking over your prospects' head. Read more…
#4 – The New Search, Content, & Social Marketing Sweet Spot
If you've been researching web marketing for very long, no doubt you understand there's more to it than just putting up a webpage. Several components (i.e. search optimization, content and social media) have to work together to ensure a successful web marketing effort. Search optimization for example can bring targeted traffic to your site, but if your content is poor, they won't stay very long. Similarly, if content isn't seen as shareworthy and you're not engaging with customers on Facebook, Google+ and Twitter, then social media isn't really going to yield results. The magic happens when all three of these components work together and find a "sweet spot." Read more…
#5 – Americans are Drinking Less Coffee than Ever. Here's Why.
Much to my surprise, Americans are drinking less coffee. According to the U.S. Department of Agriculture, coffee intake is expected to drop for the first time 6 years from 24 million 60-kg bags to 23.7 million. Why the decline? It's not that Americans have lost their love affair with a warm cup of Joe. No, the main reason is the proliferation of the Keurig Green Mountain K-Cups that allows users to only brew what they intend to drink. The National Coffee Association also points to America's aging population as playing a role in the decline. Read more…
Well I don't know about you, but I still need my cup of coffee in the morning to get going, or stay awake if I'm really tired. Perhaps the growing popularity of energy drinks is another reason for the decline. Regardless of any decline, coffee consumption will remain as is here at the Charter Oak office.
Anyway, I sincerely hope you enjoyed this edition of the top 5 roundup. I'm looking forward to preparing a publishing my review of the Superstars book. It's a great compilation of the web marketing's top minds, and will not disappoint.
Until next time, stay cool out there!